Why Do Second Marriages Fail?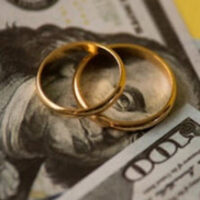 Statistically speaking, second marriages are more likely to end in divorce than first ones. According to Psychology Today, about 67% of second marriages result in a trip to divorce court, whereas only 50% of first marriages do. The divorce rate for third marriages is even higher—73%.
At Barbara Flum Stein & Associates, we've spent decades helping couples navigate a Delaware County divorce, so we are well positioned to reflect on why second marriages are often less successful. Although each marriage is different, there are some common threads we have seen over the years.
Getting Married Too Quickly
Some men and women have not yet healed from their first marriage. When this happens, it is a miracle if the second marriage will last even a few years.
Everyone heals from divorce at their own pace, and unfortunately getting married a second time does not speed up the process. If someone is afraid to be alone, they might marry the first person available. Other men and women might realize that, once the healing process has ended, they are a radically different person and no longer compatible with their new spouse.
Choosing the Same Type of Spouse
Unfortunately, some people choose a new spouse who is a carbon copy of their old one. If you divorced your first husband because he didn't communicate, don't marry another man who is unable to express himself. If your first wife spent too much, ensure that your new wife has a different relationship with money. Sadly, many people simply marry someone very similar.
Problems with Children
Most people do not yet have children when they marry for the first time. This allows the relationship to build without the extra stress that children can bring. With a second marriage, however, the odds are much higher that one or both spouses will have kids. And they can negatively impact a marriage:
You might have less time to spend on your new spouse because you are trying to keep up with a parenting plan.
Children might resent having a new parent in their life, which can increase conflict.
Children might limit where you can move, restricting career opportunities and adding stress to the relationship.
Couples who already have children need to be intentional about addressing problems ahead of time.
Comfort with Divorce
This reason garners little attention. Although many people are terrified of divorce, someone who has gone through the process once might no longer be afraid of it. Instead, they might be committed to calling the relationship off as soon as they see familiar red flags.
Protect Yourself—Contact a Media Family Law Attorney
No one should go into a second marriage blind. Instead, proper legal planning is necessary. Though we hope all people find true love a second time around, there are no guarantees, and men and women should have legal plans in place in the event their marriage fails.
At our firm, we can help our clients develop prenuptial agreements that clearly identify each spouse's rights and obligations during marriage and divorce. If you have children already, a prenup can protect their legacy as well. Whether you have substantial assets already or are only entering the meat of your career, please call the Media divorce lawyers at Barbara Flum Stein & Associates today to schedule a time to meet.
Resource:
psychologytoday.com/us/blog/the-intelligent-divorce/201202/the-high-failure-rate-second-and-third-marriages
https://www.bfsteinlaw.com/can-a-prenuptial-agreement-protect-your-small-business/