What You Should Do If Your Spouse Refuses To Divorce You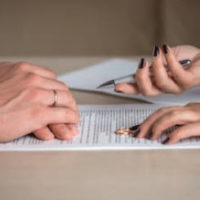 You've filed a petition for a divorce, but your spouse has completely ignored your communications and refuses to sign the papers. This is not as uncommon a situation as you may think. One spouse may feel the relationship has completely failed while the other believes it is still worth fighting for. Although Pennsylvania courts will not force you to remain in a marriage that you're severely unhappy in, it does require you to convince your spouse to agree to a divorce, or else file a 'fault' divorce. If you find yourself in a situation where you and your spouse are not on the same page about getting a divorce, contact the divorce attorneys at Barbara Flum Stein & Associates immediately so that we can help you evaluate your options and start fighting for your rights.
Fault vs. No-Fault
There are two types of divorce in Pennsylvania: fault and no-fault. In a no-fault divorce, both parties agree to the divorce, and no reason needs to be stated for why the parties are seeking a divorce. Contrarily, if one party refuses to get a divorce but the other party is adamant about pursuing the divorce, the party filing for divorce may be required to file for a fault-based divorce, which requires showing one of the following:
The other spouse has deserted the petitioning spouse without reasonable cause for at least one year;
The other spouse committed adultery;
The other spouse put the life of the petitioning spouse in danger;
The other spouse knowingly entered into a bigamous marriage;
The other spouse was sentenced to two or more years in prison after being convicted of a crime;
The other spouse has rendered the petitioning spouse's life "intolerable" and "burdensome"; or
Your spouse has been institutionalized for at least 18 months and will not be discharged for another 18 months.
As you can see, a fault-based divorce is a bit more complicated than a no-fault divorce. You will need to gather substantial evidence to support your ground for filing a fault-based divorce.
What To Do If Your Spouse Refuses To Divorce You
If you and your spouse cannot get on the same page regarding a potential divorce, you essentially have three options: (1) file for a fault-based divorce on one of the grounds listed above, (2) convince your spouse to consent to a divorce, or (3) try to work out your problems and stay together. 
Contact a Media Divorce Attorney Today
The divorce attorneys at Barbara Flum Stein & Associates have dealt with numerous situations in which two spouses were unable to come to an agreement about a possible divorce. Our attorneys always speak with the spouse first to learn more about the reasons why one spouse wants to file for divorce while the other does not, and then consult the spouse on the best course of action for his or her particular situation. We can help you understand your rights and options during this difficult time and zealously defend you the entire way. Contact the Media divorce attorneys at Barbara Flum Stein & Associates today for a confidential and free review of your case. Call us at 610-565-6100 or visit us online to schedule your free consultation today.
Resource:
legis.state.pa.us/WU01/LI/LI/CT/HTM/23/00.033.001.000..HTM
https://www.bfsteinlaw.com/divorce-vs-separation-whats-the-difference/