Divorce vs. Separation: What's the Difference?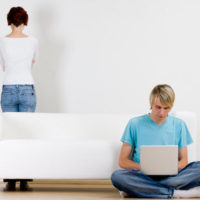 While there is no such thing as "legal separation" in Pennsylvania, there are plenty of reasons why you might not want to jump immediately to divorce after a big fight. An alternative to divorce that couples going through a rough patch might want to test out is remaining married but living separately, whether for a designated period of time or indefinitely. If you are struggling to decide between divorce or separation, let the divorce attorneys at Barbara Flum Stein & Associates help. Not only are our attorneys well-versed in Pennsylvania's divorce laws, but we are also sympathetic and understanding individuals who want to help you decide what's best for you and your family.
Financial Considerations
One of the main reasons a couple may wish to remain married but separated, rather than divorced, is finances. Specifically, couples may choose to remain married but separated when it would result in lower taxes, better health insurance, and the possibility of social security insurance down the line. For example, depending on each spouse's income level, it may be more beneficial from a tax perspective for the couple to file their taxes jointly. However, if they are divorced, they won't be able to do so. Additionally, if one spouse receives excellent health insurance through his company, and the other spouse is self-employed and does not receive corporate health insurance, the couple may choose to stay married so that the self-employed spouse can continue to receive health insurance benefits. Finally, if a couple is married for 10 years or more, the lesser-earning spouse may be entitled to receive a portion of the other spouse's Social Security benefits.
Divorce Decree vs. Separation Agreement
A couple that chooses to remain married but separated may decide to draft and sign a separation agreement. While a separation agreement is not a legally binding order of the court like a divorce decree, it can still serve to help the couple come to an agreement on how they plan to live their lives separately while remaining legally married. Like any other contract, if one spouse breaches the agreement, the other can sue for breach of contract. The only factor that cannot be included in a separation agreement is child support, which is always supported by court order.
Contact a Media Divorce Attorney Today
If you are struggling to decide whether to pursue divorce or merely separate from your spouse for a short period of time or indefinitely, you need an expert to help walk you through the pros and cons of each arrangement. Our divorce attorneys have counseled numerous individuals on the differences between divorce and separation and helped them come to the best decision for their family. We can help you understand your options during this difficult time and defend you the entire way. Contact the Media divorce attorneys at Barbara Flum Stein & Associates today for a confidential and free review of your case. Call us at 610-565-6100 or visit us online to schedule your free consultation today.
Resource:
pacode.com/secure/data/231/chapter1910/chap1910toc.html
https://www.bfsteinlaw.com/what-happens-if-a-spouse-dies-before-a-divorce-is-finalized/