Should You Invite a Friend or Family Member to Your Consultation?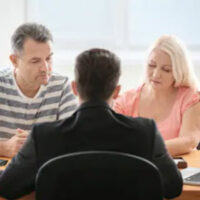 Before you hire a Media divorce attorney, we recommend that you schedule a consultation. This is a great way to meet a lawyer and get some answers to basic questions. A consultation lets you check that the lawyer's personality and communication style are compatible with your own, and you can talk through whether you really want to get divorced.
Some people like to invite a friend or family member to sit in on their consultation. Unfortunately, their presence can sometimes create problems, which we'd like to address in this post.
Your Family Member Might Be More in Favor of Divorce than You Are
Many people who schedule consultations are not 100% sold on divorce. They might think the marriage can be saved, or they just want some general idea of what they could walk away with should they eventually file divorce papers.
If you invite a friend or family member, they might be more insistent that you should divorce than you really are. We have seen this when parents sit in on a consultation, and Mom or Dad confesses that they never liked the spouse. Your legal consultation is not really the time for a family member to lobby for divorce or to divulge confessions like these, which can actually cause friction later on. You might ultimately decide not to divorce, in which case you could resent your parent who was pushing for a split because they do not like your spouse.
You Might be Less Candid in a Consultation
Have you been unfaithful in your marriage? Gotten into financial difficulty because of gambling or another addiction? Or have you been recently diagnosed with a mood disorder?
If so, this information could come out in a divorce and affect any settlement. As divorce attorneys, we can't provide accurate advice if we don't know all the facts. Think carefully before you invite someone into the consultation. If you are embarrassed to admit something in front of them, then your consultation will not be as helpful as it otherwise could be.
You Can Lose Confidentiality
Anything to relate to your attorney that relates to the divorce is confidential. This means your lawyer cannot disclose it to anyone without your permission (unless you admit to wanting to commit a crime, for example).
If you have a third person in the room with you, then you lose the privilege. No, the lawyer won't post what you said on social media. But if your spouse wants to subpoena your family member, then they can find out everything that was said. It is better to preserve the attorney-client privilege.
Advantages to Having Another Set of Eyes and Ears
There is one advantage to having a guest sit in on a consultation. This person might be able to view the situation more objectively and is another set of ears who can remember what the lawyer said. It might be appropriate, in some situations, to have a guest sit in on part of the consultation but then leave if sensitive information needs to be discussed.
If you would like to discuss divorce, or if you have a question, please contact Barbara Flum Stein & Associates today. Our firm offers a free consultation, which you can schedule today.
https://www.bfsteinlaw.com/practical-tips-for-dividing-marital-debt/