Is Your Spouse Hiding Assets? What Should You Do?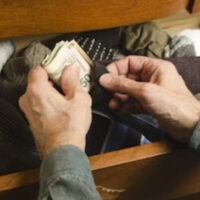 Most couples have accumulated marital property unless they were married for a very short time. Under Pennsylvania law, most property you acquired after marriage will be considered marital. It doesn't matter if your husband put the house you bought in his name only. The home is marital because you acquired it while married.
Exceptions to this general rule are for property you were given as a gift or inherited while married. Anything you brought into the marriage is probably your separate property, also.
As part of your divorce, each spouse must list their assets on paperwork submitted to the court. However, in some divorces, one spouse often hides assets. The motive is simple—the spouse doesn't want to divide them with a soon-to-be ex.
What should you do if you suspect your spouse is hiding assets in a divorce? Or what should you do if your spouse always handled the finances and you have no real idea what he or she owns? Below, our Delaware County property division attorneys explain.
Assets Spouses often Hide
A divorcing spouse might fail to disclose any number of assets, including:
Cash
Stocks
Bonds
Mutual funds
Annuities
Insurance policies
Savings bonds
Some of these might be owned in trusts and held offshore or in a different state. Your spouse still needs to disclose them, but many don't.
It's also possible your spouse fails to disclose more tangible assets, such as real estate, art, jewelry, or vehicles. These are often harder to hide than financial accounts, like mutual funds, but some spouses still refuse to disclose them.
Techniques for Hiding Assets
Some spouses are quite clever at hiding assets. Some of the more common techniques we have seen involve:
Having friends or family take ownership of property.
Hiring friends or family for fake businesses and paying them a salary, which is really a way to transfer money to them before the divorce.
Transferring assets to a corporate entity, such as a limited liability company (LLC).
Delaying business contracts with clients until a divorce is finalized.
Lowering the value of a business by falsely reporting tax information and falsifying business records.
Converting cash into assets and undervaluing the asset.
These schemes can be difficult for a spouse to identify, so an attorney is helpful. We can properly value assets and also check whether a business is legitimate.
How We Uncover Assets
As seasoned Media divorce lawyers, we understand how to force a spouse to cough up important financial information, which often leads directly to the hidden assets. For example, we have experience with discovery requests. We can request tax information for businesses and force a spouse to hand over financial information about bank and investment accounts. Any spouse who drags his feet could be sanctioned by the court.
We can also hire people to perform investigations. A forensic accountant can trace how money is moved between accounts or offshore. An investigator can also check whether friends or family have come into considerable sums of money or property, which might be illegitimate transfers of marital property.
Discovering hidden assets is never easy, but the Media property division lawyers at Barbara Flum Stein & Associates have worked for over 30 years to obtain the most advantageous divorce possible for our clients. For more information, please schedule your consultation with one of our lawyers today.
Resource:
legis.state.pa.us/WU01/LI/LI/CT/HTM/23/00.035.001.000..HTM
https://www.bfsteinlaw.com/who-gets-the-pets-when-we-divorce/