Who Gets the Pets when We Divorce?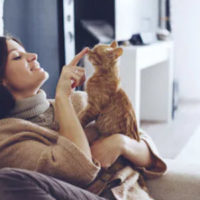 For many couples, their pets are as important as their children. When contemplating divorce, many of our clients express fear that they will lose the family dog or cat and wonder if they should come up with a custody schedule.
This might be surprising, but Pennsylvania law considers your pets to be no different from your furniture. Pets, even dearly-beloved dogs and cats, are considered personal property that must be divided equitably in a divorce. A judge will not treat your pet like a child and determine custody and a visitation schedule.
If you have pets you want to keep, please reach out to a Media divorce attorney as soon as possible.
Determine Whether the Pet is Marital or Separate Property
You only need to divide marital property in a divorce or legal separation. Generally, you can leave the marriage with your separate property. Under the law, any property you acquired after marriage is usually marital unless it was a gift (from someone other than your spouse) or something you inherited.
Think back to when you got your pet. If you brought the dog or cat into the marriage, then the pet is your separate property and you can leave with it. Also, if someone gave you—and only you—a pet, then it is probably your separate property also.
However, if you acquired Fido after marriage, then he is probably marital property. This means the judge needs to give him to one of the two of you.
Negotiate a Resolution with Your Spouse
Let's say you both want the pet. Unfortunately, the judge is not going to award custody and visitation because Pennsylvania law does not allow that. However, you can reach a voluntary agreement with your spouse to divide time with the pet. This might work if you know you will live close to each other and can hash out a schedule for when each of you will have the pet. It won't work if you know that one of you will move in the near future.
Consider How a Judge will Decide Who Gets the Pet
When deciding how to divide property, a judge looks at many different factors. When it comes to pets, a judge will probably consider the following:
Who paid for most of the pet's needs?
Who was primarily responsible for taking care of the dog, feeding it, walking it, etc.?
Which spouse has the resources and time to take care of the pet in the future?
Who initially wanted the pet? Was it a gift from one spouse to the other?
If you wanted the dog and provided most of the care, then you have a strong case for getting the pet. You can gather helpful evidence with your attorney to strengthen your case as much as possible.
A Media Divorce Attorney in Your corner
With luck, the law in Pennsylvania will change and visitation schedules might be available when both spouses want the dog. In the meantime, divorcing men and women must carefully analyze how a judge will decide this issue in the future.
At Barbara Flum Stein & Associates, our Media property division lawyers have handled countless divorces and will help you chart a path forward to get the divorce you want. Contact us today to schedule a free consultation.
Resource:
scholar.google.com/scholar_case?case=17990361239094100793&q=DeSanctis+v.+Pritchard&hl=en&as_sdt=6,39&as_vis=1