Dressing Appropriately for Divorce Court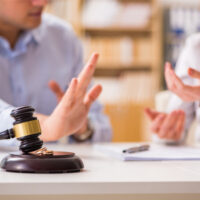 Research shows that people form an impression of someone else within one tenth of a second. That is basically the blink of an eye. Once formed, initial impressions are hard to change.
This research is equally applicable to judges. At Barbara Flum Stein & Associates, our Media divorce lawyers strive to obtain the best divorce possible for our clients. This often means ensuring that our clients make a good impression if they need to go to court for a hearing. Below, we review some basic tips people can use even if they are handling their own divorce.
You Don't Have to Wear a Suit
Some people automatically assume they need to wear a three-piece business suit to impress a judge. That is not true. For one thing, an ill-fitting suit actually creates a worse impression than not wearing one. If you want to wear a suit, make sure it fits your body, which means it should be tailored.
Our business clients who wear suits daily should certainly wear one if that is what makes them comfortable. There is no need to change into something more casual when coming into court. But If you don't wear suits regularly, don't feel like you must wear one in divorce court.
Wear Neat & Clean Clothes
Whatever you wear, make sure it is neat and clean. These are vitally important. Launder your clothes and mend them, if necessary.
Cleanliness also extends to your person. Take a shower, wash your hair, and scrub behind your ears. Comb your hair and make sure your nails are clipped and clean. Messiness of any kind signals that you are a careless person—not the impression you want to make in a child custody dispute, for example.
Avoid Shorts
Men and women should wear pants, with women having the option to wear a skirt or a nice dress. Don't wear shorts if possible. If the only pants you have are jeans, make sure that they are neat and clean. Ripped jeans might be fashionable but do not impress conservative judges.
Wear a Dress Shirt or Blouse
Men should wear a button-down dress shirt which has been freshly pressed. Women can wear a dress shirt or blouse. Wear a polo shirt only if that is all you have, because it is better than a T-shirt, tank top, or crop top.
Make Sure Your Clothes Fit
This is a big one for women, in particular. Although a conservative dress is acceptable, a slinky cocktail dress is not. Make sure that bra straps are not revealed and that clothes fit—but not too tightly. It is embarrassing to be tugging and pulling at fabric while standing before a judge.
Avoid Hats & Flashy Jewelry
You should not wear a baseball cap or other hat in front of a judge. There is an exception if you have a religious reason for wearing headgear.
When it comes to jewelry, less is more. Bracelets that make a lot of noise or flashy gold chains are not effective and can be distracting.
One advantage of working with our firm is that we will always ensure you feel comfortable in court. This extends to discussing what you should wear. Contact us at Barbara Flum Stein & Associates to schedule a consultation.
Resource:
psychologicalscience.org/observer/how-many-seconds-to-a-first-impression
https://www.bfsteinlaw.com/how-a-forensic-accountant-can-help-in-your-divorce/