When Is The Right Time To Tell The Kids You Are Getting A Divorce?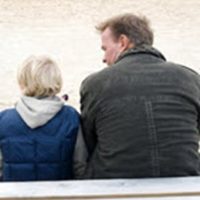 As a parent, telling your child that you are divorcing your spouse may be one of the hardest conversations you will ever have. While you may be mostly concerned about what you are going to say and how you are going to break the news, it is just as important to consider when you tell the children that your marriage is ending. It is important that you do not broach the subject too soon, but you also want to make sure you give your children enough time to process the information. Below, our Media divorce lawyer outlines some tips that can help you plan when to tell the kids.
Why You Should Not Tell the Kids Too Early 
Before you actually file divorce papers, or you are served with them, you may already know that your marriage is over. Maybe you can feel that things have changed between you and your spouse, or perhaps you have even already had a conversation about divorce with your partner. Even if you know you and your spouse are probably going to get a divorce, you still should not tell your children too early.
The first reason for this is that there is always a possibility that you and your spouse will reconcile. If this happens and you have already told your children, you will have caused your child stress and heartache for no reason.
Even if you and your spouse do not decide to give your marriage another chance, your child will have many questions for you after you tell them about the divorce. It is important to consider these questions and to speak to your children only after you have possible answers for them. For example, even though you may not know exactly what child custody will look like, you should hold off on the conversation until you at least understand the different possibilities.
Why You Should Not Wait Too Long to Tell the Kids 
While you do not want to have the conversation about divorce too early, you also should not wait too long. Children are very intuitive and if you and your spouse are having serious problems, they have probably already picked up on that fact. Telling them what is going to happen can stop them from speculating and give them some sense of stability because they at least know what is coming.
Additionally, you or your spouse may want to move out of the family home before or during the divorce process. You may also want to start spending time with your children independent of each other. Doing so without having a conversation as to why this is happening will also only add to the child's stress and giving them some answers can help quell some of the anxiety.
Our Divorce Lawyer in Media Can Advise On Every Aspect of Your Case 
Talking to the kids about your divorce is something no one can do for you, but our Media divorce lawyer can help prepare you for the conversation, and every other aspect of your case. At Barbara Flum Stein & Associates, our skilled attorney will provide you with the best legal advice to ensure your case proceeds as quickly and smoothly as possible. Call or text us today at 610-565-6100 or connect with us online to schedule a consultation.
Sources:
legis.state.pa.us/cfdocs/legis/LI/consCheck.cfm?txtType=HTM&ttl=23&div=0&chpt=53
legis.state.pa.us/cfdocs/legis/LI/consCheck.cfm?txtType=HTM&ttl=23&div=0&chpt=33&sctn=1&subsctn=0