What To Do, And What Not To Do, During Divorce Litigation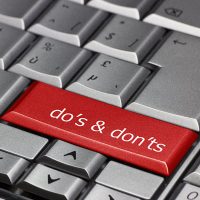 Most Media divorce cases do not go to trial but instead, they settle outside of the courtroom. Still, there are times when going to trial and allowing a judge to make the final decision on all terms is necessary to ensure you receive the fair outcome you deserve. Going to trial is often intimidating for people who have never been through the process before, and you may not know what to expect. If you believe your case is going to go to court, it is important to know what to do, and what not to do. Below, our Media divorce lawyer explains further.
Do Create a Budget 
Litigation is the most expensive way to get a divorce. Before starting the process, create a budget you can use during the process. Include your legal fees, as well as your day-to-day living expenses and monthly costs so you do not find yourself falling short during the process. Also create a budget for post-divorce, so you can identify the costs of finding a new place to live, utilities, and other expenses so you can make sure you can cover the costs.
Do Not Expect Your Case to Proceed Quickly 
Litigation is not only the costliest way to get a divorce, but it is also the lengthiest. When going to a divorce trial, your case will be subject to the schedule of the court and will also involve many different stages, such as discovery. All of this can take a great deal of time and if you expect the trial to be over quickly, you will be disappointed. Divorce trials can take over a year and sometimes even longer.
Do Make Sure Your Estate Plan is Updated 
Once your divorce trial has ended and a judge has issued final orders, the divorce decree does not automatically void certain documents. As such, if your spouse is listed as a beneficiary of a life insurance policy, will, or other legal document, it is imperative that you make the necessary changes. You likely do not want your spouse receiving a portion of your estate after you pass away, and you should make these changes official during or shortly after the litigation process.
Do Not Let Your Spouse Overpower You 
If your spouse was overly demanding or controlling during your marriage, this likely will not change when you enter into litigation. To make sure your spouse does not try to bully you into agreeing to something you do not want, allow your Media divorce lawyer to do all the negotiation and communication on your behalf during litigation. This will help ensure you receive the fair outcome you deserve.
Do Work with the Right Divorce Lawyer in Media 
At Barbara Flum Stein & Associates, our Media divorce lawyer can provide the sound legal advice you need while also making sure your best interests are always protected. Call us now at 610-565-6100 or connect with us online to schedule a consultation and to learn more about how we can help.
Source:
legis.state.pa.us/cfdocs/legis/LI/consCheck.cfm?txtType=HTM&ttl=23&div=0&chpt=33&sctn=1&subsctn=0