What To Do After Being Served With Divorce Papers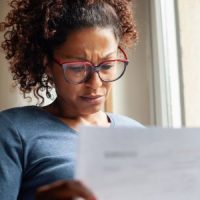 Perhaps you have known that divorce was coming for quite some time. Or, maybe the idea of ending your marriage came as a complete surprise. Regardless of the situation leading up to being served with divorce papers, it can come as quite a shock. It is not uncommon to become emotional, and you may not know what you are supposed to do next. There are some important steps to take if your spouse has served you with divorce paperwork, and our Media family lawyer outlines what these are below.
Remain Calm
Holding the divorce paperwork in your hands will make the situation much more real, even if you suspected it was going to happen. There is no doubt that the following days, weeks, and even months are going to be difficult for you and your entire family. Still, it is important to remain calm. This is just the beginning of the process, and you may have some time to go. Keeping a clear head and staying rational will not only help ensure you receive a fair settlement, but it will also help when you take the following necessary steps.
Review the Documents Thoroughly
The divorce package you receive will contain many different documents. One of the main documents is the complaint filed with the court by your spouse. Your spouse may have filed on no-fault grounds, meaning they are not blaming you for the breakdown of the marriage. On the other hand, they may have also filed on grounds of fault, in which they do state you are to blame, and their reasons for believing that.
The paperwork you receive will also state what your spouse is seeking from the divorce, such as their demands for property division. Remember that just because your spouse is pursuing certain things in the divorce does not necessarily mean they will get them. You can still fight for those terms and knowing what your spouse is seeking can help you understand what to expect during the divorce process.
The divorce documents will also contain a notice to defend. This document allows you to answer any of the accusations your spouse made within the complaint. You are not required to respond, but providing an answer can help you obtain a better outcome.
Attend Court
The documents you receive when served with divorce papers will also provide you with the date, time, and location of a court hearing. You should make sure that you attend this court hearing. If you do not, a judge may grant the divorce even if you are not present and that could result in you receiving terms that are not favorable to you.
Contact a Divorce Lawyer in Media
There is no law that you have to work with a Media divorce lawyer when ending your marriage in Pennsylvania. However, having experienced legal counsel by your side will make the process easier, and help you obtain a fair settlement. If you have been served with divorce papers, call our skilled attorneys at Barbara Flum Stein & Associates today at 610-565-6100 or contact us online to schedule a consultation so we can review your case.
Source:
legis.state.pa.us/cfdocs/legis/LI/consCheck.cfm?txtType=HTM&ttl=23&div=0&chpt=33&sctn=1&subsctn=0