What Is the Impact of Spousal Violence on Divorce?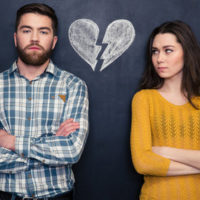 Making the decision to get divorced is scary for many spouses. Figuring out how to care for children, pay the bills, and run a household without the help of another adult is understandably overwhelming for many. When violence is added into these complexities, the implications of divorce are even greater. Leaving a violent marriage is imperative for the safety of the victim and his/her children, but the reality of exiting a relationship filled with abuse is rarely that easy. Abusers often maintain tight control over finances, who the victimized spouse is allowed to contact, and the location of the other spouse on a daily basis. Thus, announcing an intent to divorce may not be prudent or safe, and extra steps may be necessary to ensure everyone ends up in a secure place. Once the victim is able to leave and initiate the divorce process, the question becomes how these acts are relevant and influential on the outcome of the divorce case and any settlement. Allegations of spousal abuse are typically viewed as he-said/she-said situations, a dynamic is clearly in play in the divorce of Ohio State Senator Kris Jordan, who is in the middle of a contentious divorce with his wife of 11 years, which includes extensive testimony by Melissa Jordan about her husband's unpredictable outbursts of violence. A discussion of how issues of violence can impact the procedure and outcome of a divorce case will follow below.
Domestic Violence and Filing for Divorce
Pennsylvania offers residents three primary methods to obtain a divorce: fault-based, mutual consent, and no-fault. Back in 2016, though, an amendment was made to the State's divorce law that added a provision to the section related to consent when the marriage is irretrievably broken. Under the revision, an abused spouse has the ability to seek a divorce after just 90 days of separation when the other spouse has a conviction for domestic abuse or other personal injury. Essentially, in these cases, consent is assumed, permitting the abused spouse from having to fulfill the two-year waiting requirement for divorce under the no-fault section. Further, courts are not permitted to order a couple to counseling if a protection order is in place or there is a conviction for a personal injury crime. Thus, the intent is to streamline the divorce process for abused spouses and limit the ability of the abuser to exert his/her influence over the victim to obtain a better divorce or halt the case entirely.
Effect on the Issues of Divorce
Spousal violence can reach into all areas of divorce, but is generally most commonly seen in matters related to child custody and support. Judges are required to assess the best interests of the child when deciding custody matters, and included within the factors courts must use to consider this issue are three that directly touch on the implications of abuse in child custody:
Present and past incidents of abuse and continued risks of harm to the child or an abused party;
A history of drug or alcohol abuse; and
Reasonable safety measures to protect a child from domestic abuse, including measures that turn the child against a parent.
Depending upon the circumstances surrounding the abuse, including whether the child was a victim or witnessed episodes of violence, a judge can be persuaded to limit the amount of time a parent has with a child or restrict it entirely. Further, though less common, abuse can impact support awards, particularly if the abuser stopped the victim from working or has almost complete control over the family's assets. Working with an experienced divorce attorney in this situation is crucial to protecting the interests of both spouses and the safety of their children.
Consult a Pennsylvania Divorce Attorney
Violence in a marriage is not something that can be ignored, and if your divorce includes this element, talk to a divorce attorney as soon as possible. Regardless of which side of this issue you are on, legal advice is needed to properly address these allegations in the legal system. The attorneys at Barbara Flum Stein & Associates know the obstacles you are facing in divorce with issues of abuse, and will work to get you the best possible outcome. Contact the Media divorce firm today at (610) 565-6100 to schedule a consultation.
Resource:
dispatch.com/news/20181102/guns-and-broken-glass-state-sen-kris-jordans-messy-divorce
https://www.bfsteinlaw.com/is-it-possible-to-keep-a-divorce-private/