Unique Challenges for Same Sex Couples Who Are Divorcing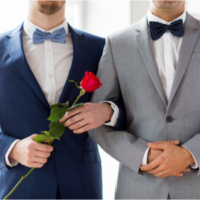 In most ways, divorce for same-sex couples is no different than divorce for everybody else. Couples still need to navigate the division of their marital property and debts and determine child custody and alimony. Couples also need to keep the tax consequences of their decisions at the forefront of everything they decide.
However, same-sex couples might have some unique wrinkles to their divorce. And they need a Media divorce lawyer who understands how to best use the law to accomplish their goals.
Custody when One Spouse Hasn't Adopted
Often, a same sex couple will have children. However, only one parent is the biological parent or has adopted the child. Their spouse, meanwhile, has not taken the legal steps to become the child's other parent. When the couple splits up, the spouse who never adopted might be shocked to find out that he or she has limited custody rights—or no custody rights at all.
At Barbara Flum Stein & Associates, we work with our clients to establish their right to see a child, even after divorce. This can be incredibly challenging for a parent who never legally formalized their relationship with the child. Pennsylvania does recognize that some people served in the parental capacity and therefore recognizes in loco parentis status. But it is not guaranteed that you will gain custody. We encourage men and women to meet quickly with our Delaware County child custody attorney to determine their custody rights.
Child Support & the Non-Adoptive Spouse
If the law does not recognize a spouse as a child's parent, then the same law will not obligate him or her to pay child support. Unfortunately, this means that the parent with custody could end up having to pay all expenses without any subsidy from their former spouse.
Dissolving a Civil Union
A couple might have entered a civil union before getting married. When they divorce, they also need to dissolve the civil union. This is an important step, and one that couples should not overlook.
Admittedly, Pennsylvania never had a law on the books permitting civil unions in our state. However, you might have entered a civil union in a different state before moving here. And that civil union would have been recognized under the Full Faith and Credit clause of the U.S. Constitution.
Retirement Account Beneficiary Designations
You might have engaged in estate planning before gay marriage was legalized. One way to provide for a partner was to make them a beneficiary on many assets, such as retirement accounts, life insurance policies, and other payable on death (POD) accounts.
According to 20 Pa.C.S. 2507, all provisions in a will relating to your spouse are automatically revoked when divorce is pending. That's a relief. But any beneficiary designation for an employer-sponsored pension or retirement plan is not automatically revoked because these are covered by federal law. You will need to go ahead and change that designation, otherwise your ex could inherit from you.
Schedule a Time to Discuss Your Divorce
Our team can effectively guide a spouse in an LGBT marriage through the divorce process. Call or contact us online at Barbara Flum Stein & Associates to schedule a confidential consultation.
https://www.bfsteinlaw.com/do-political-disputes-lead-to-divorce/