The "Gray Divorce" Phenomenon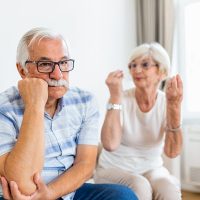 Data gleaned from court records indicates that there is a soaring rise in divorce among retired spouses. These are called "gray divorces" and the numbers indicate that they have more than doubled since 1990. So, why are older Americans getting divorced more frequently in 2020 than they were 30 years ago?
Lifespan increases 
Why the rise in gray divorce? Many have theorized as to why there is such a boom in 55 and over divorces. However, one common underlying factor is that people are living longer and staying healthy and active longer than they ever have before. You are no longer on death's doorstep at the age of 60. You could have 20 good years of retired activity left in you. Why waste it doing the same thing you did for the past 40 years?
Sexual liberation and attitudes toward marriage 
The 1960s and 1970s paired self-actualization with feminism and what ended up happening was that many questioned whether the institution of marriage was really all that it was cracked up to be. Today, many young women feel overburdened by both careers and home lives where they are still expected to do most of the housework and child-rearing. This has placed a double burden on women, and no matter how strong their marriage is or how much they love their spouse, they're getting worn down, worn out, and wishing they had taken a different path.
Meanwhile, women are now more financially independent than ever, meaning they can go out on their own if they choose.
Empty nest syndrome 
More and more couples are making the decision to divorce after the children have moved out. After their children are gone, they realize that they share few common goals or don't want to spend their retirement together. With no supposed consequences to the children, the spouses feel as though there is no duty binding them together and so they part ways.
Consequences of gray divorce 
While many couples imagine that they will be going on cruises and living the good life once their divorce is finalized, the truth they end up having to accept is that divorce can be costly. This has an impact on the financial stability of the marital estate and can potentially result in major standard of living changes. Meanwhile, the courts are fielding more divorce cases than ever and conservative think tanks are thinking of ways to curb the divorce rate. Nonetheless, marriage as an institution is becoming more of a lifestyle choice than a right of passage.
Talk to a Delaware County, PA Divorce Attorney Today 
Barbara Flum Stein & Associates has experience managing the complexities of gray divorce. If you are considering divorce, you should discuss the matter with a Media divorce attorney. Call our office today and we can address your concerns moving forward.