Subsequent Marriages And Divorce: Why Is It So Common?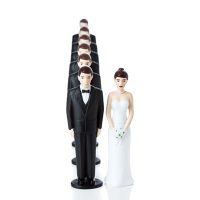 Taking a second chance at love is an exciting thing for many people who are divorced. Second and third marriages are becoming quite common but sadly, statistics show that these unions are even more likely to end in divorce than first marriages. Approximately 50 percent of first marriages will end in divorce, while 67 percent of second marriages dissolve. For third marriages, the number climbs even higher, with 74 percent of these unions ending in divorce. So, why is divorce so much more common in subsequent marriages?
Marrying for the Wrong Reasons
People get married for the wrong reasons all the time. Unfortunately, this is just as true in subsequent marriages as it is in first marriages. People may simply become caught up in the thrill of a new romantic relationship, or they may be tired of feeling lonely after their first or second divorce. Rushing to get married may mean that neither person is fully aware of their spouse's habits and personalities and they may discover things they do not like after the wedding.
More Complex Relationships
It is well known that when two people get married, they do not only marry each other but also each other's families. In subsequent marriages, the family of each spouse is larger. Each may have a new spouse, children from a previous marriage, and a former spouse and in-laws. These relationships are very personal and when there are a number of them, things tend to become much more complex. One party may be unhappy that the other has moved on, and stepchildren can become resentful of each other.
The disputes and hurt feelings that are a result of these many relationships can place a significant strain on a second or third marriage. For some couples, the strain is too great to bear and they end up getting a divorce.
Money Issues
Finances are a concern in many marriages, and the reason why so many end in divorce. This is true for subsequent marriages, too. Money issues can become even bigger in subsequent marriages because each spouse may have more financial obligations. One may pay alimony to a previous spouse, while another pays child support. The financial issues in second and third marriages are also more complex. For example, one or both spouses may have significant retirement savings and may disagree on how to use them.
Knowing what is to Come
It is not uncommon for people to remain in an unhappy marriage because the very idea of divorce scares them. Many people in subsequent marriages have already been through the divorce process, though. They know what to expect and how to prepare, so they may start the divorce process sooner than they did the first time.
Considering Our Divorce? Contact Our Family Lawyer in Media
If you are considering divorce, our Media family lawyer can provide the sound legal advice you need. At Barbara Flum Stein & Associates, our knowledgeable attorney will make the process as easy as possible and work tirelessly to help you obtain the best settlement possible. Call us now at 610-565-6100 or contact us online to schedule a consultation.
Sources:
legis.state.pa.us/cfdocs/legis/LI/consCheck.cfm?txtType=HTM&ttl=23&div=0&chpt=33&sctn=1&subsctn=0
legis.state.pa.us/WU01/LI/LI/CT/HTM/23/00.043..HTM