Seven Dos And Do Not's Of Divorce Litigation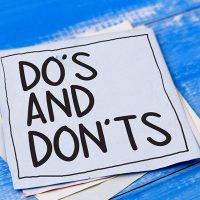 The vast majority of divorces in Delaware County settle outside of the courtroom, but some do have to go through litigation. During litigation, a family law judge will listen to both parties and make decisions on all terms of the divorce, such as division of property. There is a lot on the line when you are in the courtroom arguing your case, so it is important to know what to do, and what not to do as you go through it.
Do Consider Your Budget
Divorce is expensive and litigation is the costliest type of divorce you can get. Even before the process starts, you should create a budget for when you are going through litigation, and for life afterward, so you are not caught by surprise with unexpected expenses.
Do Not Expect a Quick Settlement
Litigation is not only expensive, but it will also take longer than getting any other form of divorce. If you expect a quick settlement, you may end up forfeiting your rights just to get the process over with, and you will not obtain the fair resolution you deserve. Litigation can take years before your case is final, so be patient and know that taking the necessary time will be worth it in the end.
Do Consider the Tax Implications
If you take an early withdrawal from a retirement account or forget to change the amount of federal withholding from your earnings, it could cost you in the end. Always consider the tax implications and speak to a lawyer that can advise on what those are, and how you can protect yourself.
Do Not Let Your Spouse Bully You
Marriages sometimes end because one spouse was overly controlling or demanding. This is unlikely to change during litigation. Allowing an attorney to handle the negotiations can prevent any bullying from the other side and ensure you receive a fair settlement.
Do Update Your Estate Plan
If you have a will, life insurance policy, or other legal document in place that makes your spouse a beneficiary or gives them authority over your care, it is important to change them. A divorce will not necessarily void these documents.
Do Not Compare Your Case with Someone Else's
There is no such thing as two identical divorce cases. Even if you know someone that has gone through a divorce, it does not necessarily mean you will see the same results, whether they are good or bad. Focus on the facts of your case and listen to the advice of your attorney before anyone else's.
Do Work with the Right Family Lawyer in Delaware County
It is important to speak to a Media family lawyer that will fight for your best interests and provide the insightful and accurate advice you need. At Barbara Flum Stein & Associates, our knowledgeable attorneys can provide the sound legal representation you need and help you obtain the best outcome possible. Call us today at 610-565-6100 or contact us online to schedule a consultation.
Source:
legis.state.pa.us/WU01/LI/LI/CT/HTM/23/00.035..HTM