Paternity Cases in Pennsylvania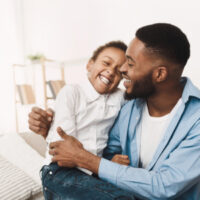 When a child is born, there is no doubt as to who the mother is. However, things are different for fathers. In many cases, there is a dispute about paternity, and either a man or woman must use the legal process to establish parental rights and responsibilities.
At Barbara Flum Stein & Associates, we have handled several paternity actions, often related to child support or child custody. Contact our firm today to discuss your case with a Media family law attorney.
Child Support & Paternity
Paternity often arises in a child support case, because a man is only responsible for supporting a child if he is the father. In this type of dispute, the mother is often the one to file the petition in court, while the alleged father is the defendant. The mother hopes to establish that the defendant is the father so that he will pay support, and typically the man wants to get out of support obligations.
Pennsylvania has a great interest in making sure that parents support their children. Disputes about paternity are a regular part of many child support actions, so this is not an unusual situation.
Paternity & Child Custody
Less frequently, we see a man file a petition to establish paternity because he wants to establish his parental rights. Unless he is the father, a man has no real right to see a child or offer input on important legal decisions, such as education or medical care. In some cases, a woman will readily agree that a man is the father, but there are some situations where she might dispute it. For example, she might be in an unmarried relationship with another man and wish to have him be the father.
In this type of dispute, the man files the petition to establish paternity in court, and the mother is the defendant.
DNA Tests
Paternity is typically established using a genetic test, ordered by the judge. However, our clients do not have an automatic right to obtain a test. Instead, the judge needs to be convinced that there are reasons for ordering one. There is typically a hearing where each side can present evidence, and you will want an attorney who understands what type of evidence is helpful.
For example, a man might have held himself out as the father by introducing people to his child. When a relationship ends, he might try to deny every doing so. A judge would find this evidence very helpful and probably order a DNA test as a result.
Testing requires the participation of the child, mother, and alleged father. Talk with your attorney about who will pay for the test. When the results of the test come in, the dispute about paternity invariably ends. However, the court then must go on and establish child support and/or child custody if the man is the father.
Hire an Experienced Media Family Law Attorney
Our law office is available to meet with you to discuss your paternity dispute. Whether you are trying to establish paternity or avoid it, we can help. Contact us at Barbara Flum Stein & Associates today to schedule a meeting.
https://www.bfsteinlaw.com/the-number-of-foster-care-adoptions-hits-a-record-high/