Just Get A Divorce? Here Is What Not To Do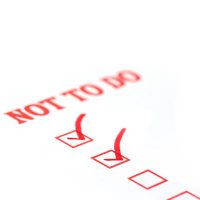 Getting a divorce is one of the hardest things you will ever go through. Once the process is over, you may feel a sense of relief as you leave the process behind you. You may even feel a sense of freedom as you approach your new life. Still, after your divorce case is final, there are certain actions you should refrain from. Even though your marriage has been officially dissolved, disputes can still arise that may require you to go back to court. Below, our Media modifications and enforcement lawyer outlines four mistakes that could cost you post-divorce.
Violate Court Orders 
The orders issued during a divorce are final and legally binding. If you violate child support or child custody orders, or any other, you will face serious consequences. Your former spouse can petition the court to enforce a divorce order by garnering your wages or through other legal action. The court may even find you in contempt.
If you feel as though you can no longer comply with a certain order, petition the court for a modification instead of simply changing the terms on your own. A divorce lawyer can advise on whether a substantial change of circumstances has occurred and if you are eligible for a modification.
Purchase Lavish Items 
It is very freeing to be back in charge of your own finances again after divorce. You may need to make certain purchases, such as furniture if you cannot live in the family home or a car if your spouse was awarded the vehicle. It is critical that you only make such purchases when you really need them and that you refrain from purchasing anything too lavish. If you are paying child support or alimony, your spouse may use these purchases to ask the court to modify an existing order because you can afford to pay more.
Talking About Certain Topics on Social Media 
You can still post to social media after a divorce, even if you refrained from doing so during the ongoing process. However, you must be very careful about what you post. Do not post anything just to make your former spouse angry, and do not speak rudely about them. It is usually best to avoid discussing your former partner or any topic that involves a current court order, such as child custody. If your social media posts anger your spouse, it may give them reason to petition the court for a modification of a certain order. If they are successful, that could hurt you for years to come.
Not Staying in Touch with Your Modifications and Enforcement Lawyer in Media 
You do not have to regularly contact your Media modifications and enforcement lawyer once your case is finalized. Still, you should contact them if you have post-divorce issues. At Barbara Flum Stein & Associates, our skilled attorney can help you petition the court to seek enforcement or a modification of an existing order when a dispute arises. Call or text us now at 610-565-6100 or chat with us online to schedule a consultation.
Source:
legis.state.pa.us/cfdocs/legis/LI/consCheck.cfm?txtType=HTM&ttl=23&div=0&chpt=33&sctn=1&subsctn=0