How Is Alimony Calculated In Delaware County?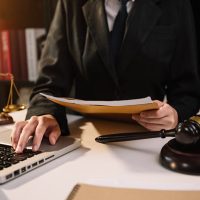 Any divorce can cause an immense amount of heartbreak and stress. When ending a marriage, there are a number of issues the couple must resolve before their case is finalized. One of the most contentious terms in any divorce case is alimony, also sometimes known as spousal support. Alimony is often misunderstood and while some people may not know that they have a right to collect it, others believe they have a right to ask for it, but they do not. Below, our Delaware County spousal support lawyer explains further.
Factors Considered when Determining Alimony
Alimony is defined in Pennsylvania law as payments made by one spouse to another. Many people enter the divorce process believing that alimony is always awarded when the marriage lasts for a certain number of years, but that is not true. Another common myth is that when spousal support is awarded to one spouse, they will receive one year of payments for every three years of marriage. Although there is some truth to these misconceptions, the law is not that straightforward.
Family law judges will consider many factors when determining whether one party must pay alimony. These include, but are not limited to:
The grounds for divorce and whether both spouses agree to end their marriage
The length of the marriage and, if the marriage only lasted a few months, alimony will likely not be granted
The ability of the paying spouse to make regular monthly payments
The ability of the recipient to obtain employment and manage their own finances
When calculating amounts for long-term alimony, judges have a great deal of discretion and they do not necessarily rely on one standard formula. The same is not true when interim alimony is awarded.
Alimony Pendente Lite
Sometimes, one party going through the divorce requires financial support during the process. In these instances, a form of spousal support known as alimony pendente lite may be awarded. Pendente lite alimony begins after the divorce papers have been filed with the court. Pendente lite alimony expires as soon as the divorce case is finalized.
Unlike long-term alimony, judges will use a certain formula for calculating pendente lite support. In these cases, recipients must receive 40 percent of the difference between the net incomes of the two parties every month. If the couple has children together, the figure used in the formula drops from 40 percent to 30 percent. The number used in these cases is smaller because it is presumed that a parent paying alimony also likely has to pay child support, as well.
Our Spousal Support Lawyer in Delaware County Can Protect Your Rights
If you are considering divorce, you may be worried about your financial future. At Barbara Flum Stein & Associates, our Delaware County spousal support lawyer will proactively protect your financial interests and help you obtain the best outcome possible. Call us now at 610-565-6100 or reach out to us online to schedule a consultation and to learn more about how we can assist with your case.
Source:
legis.state.pa.us/WU01/LI/LI/CT/HTM/23/00.037.001.000..HTM