Helping Your Kids Adapt To a Blended Family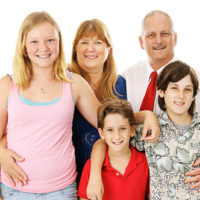 Divorce proceedings can sometimes take years, and in the process you may find someone you want to spend the rest of your life with. If you and your new partner both have children, it may be difficult for your children and your partner's children to adapt to living in a new blended household with step siblings and a stepparent. At Barbara Flum Stein & Associates, we understand that there is much more that goes into a divorce than the divorce itself, and we take care to work with our clients and their families through the many emotions and obstacles they may experience during the process. Below are our best tips for you to help your kids adapt to a blended family, and we're happy to further discuss your divorce and next steps with you one on one as well.
What is a Blended Family?
A blended family, or a stepfamily, forms when you and your new partner decide to create a life together, and either one or both of you brings in kids from a previous marriage. While this can be an exciting and fun time, it can also be a challenging one. Your kids may not get along with their new step siblings or stepparent. They may feel like they're not getting as much attention from you and may become worried that their relationship with you will be strained by the new family dynamic.
Best Tips for Helping Your Kids Adapt to a Blended Family
Plan early. The best way to help your kids adapt to a blended family is to start planning for your blended family before your new marriage even takes place. By giving your kids as much notice as possible and helping them get mentally and logistically prepared to join with a new family is the best recipe for success. Another big part of the planning process is discussing with your new partner how the two of you plan to parent your children and stepchildren together. Lay down the ground rules early so there are no surprises for anyone, and no one is improvising as they go along.
Don't sweep anything under the rug. One big "mistake" we see parents making is not talking about what's happening. It can feel awkward to talk to your kids about your new relationship and ultimate marriage so soon after your divorce from their parent, but the worst thing you can do is to not talk about what's going on. Be as open and honest with your kids as possible so that they understand as best as they can what you're going through and where you're coming from.
Be compassionate. Two children with the same biological parents can turn out completely differently, so it should be no surprise to you that two children with different biological parents can have entirely different personalities. Be compassionate toward your children and stepchildren and show respect toward them – even the parts of them you find difficult to understand and accept.
If you are transitioning out of a divorce and into a new marriage on a short timeline and are looking for a family law attorney who understands not only the law but also the human aspects of going through a divorce and starting a blended family, call the attorneys at Barbara Flum Stein & Associates today. Call us at 610-565-6100 or visit us online to schedule your free consultation.
Resource:
legis.state.pa.us/WU01/LI/LI/CT/PDF/23/23.PDF