Gray Divorces Involve Unique Issues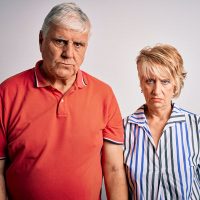 It is easy to assume that when a couple has been married for many years, they will be together forever. Unfortunately, this is not always the case. Couples can face many different issues during any stage of their marriage. Today, the rate of gray divorces, or those involving people over the age of 50, is increasing in Pennsylvania and throughout the country. Couples getting a gray divorce must resolve all the same issues present in other divorces, but there are also some unique issues involved. Below, our Media divorce lawyer outlines the biggest issues you may face when getting a gray divorce.
Alimony
Alimony is meant to allow both spouses to financially support themselves after divorce. Judges take many factors into consideration when making alimony decisions. Two of the biggest of these are the length of the marriage and the income of the person ordered to pay alimony. The duration of alimony is usually longer after a lengthy marriage and in many cases, it is permanent.
The income of the person paying alimony is also considered when judges are making their decision. Any wages or salary the person currently earns will be taken into consideration, as well as any bonuses, benefits, or other compensation they receive. These factors can make determining alimony amounts more complicated.
Identifying Marital Property
During any divorce, marital property is divided equitably, or fairly. Property division occurs during a gray divorce, as well, but it is much more complicated. Over the course of many decades, a couple will accumulate many assets and liabilities together. Some of these, such as a marital home, are easy to classify as marital assets. Other times, the matter becomes much more complex.
There are times when separate property, or those belonging to just one party, are commingled with marital assets. Inheritances, for example, are usually classified as separate property. If one is commingled with marital assets though, such as a joint bank account, the argument could be made that it is now marital property.
Division of Retirement Accounts
During a gray divorce, retirement accounts are some of the biggest assets that have to be divided. Determining the portion of the retirement accounts that is considered marital property is not always easy. For example, if a spouse had a retirement account before they got married, any funds that were in it are considered separate property. Any funds that accumulated after the marriage, though, are classified as marital property. After a couple has been married for several decades, determining which retirement funds are considered marital property and which are separate becomes much more complex.
Our Divorce Lawyer in Media Can Help with the Issues in Your Case
Any divorce case has the potential to become complex, but gray divorces involve unique issues. At Barbara Flum Stein & Associates, our Media divorce lawyer knows how to overcome the challenges these cases present, so you have the best chance of achieving a favorable outcome. Call us now at 610-565-6100 or contact us online to schedule a consultation.
Sources:
legis.state.pa.us/cfdocs/legis/LI/consCheck.cfm?txtType=HTM&ttl=23&div=0&chpt=33&sctn=1&subsctn=0
legis.state.pa.us/WU01/LI/LI/CT/HTM/23/00.035..HTM