Four Tips for Helping Your Teen Cope With Your Divorce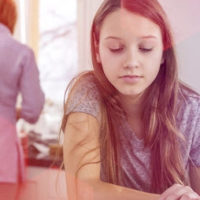 Getting a divorce can be challenging for any child, but it can be especially challenging for a teenager. During these formative and sometimes unstable years, the worst thing you can do for your teenager while going through a divorce is to sweep the divorce under the rug. While it can feel uncomfortable to address your divorce with your teen, it is important that you maintain as much transparency and open communication with your teen as possible during this time. Below are four tips for helping your teen cope with your divorce. If you are looking for more personalized, one-on-one advice, contact the divorce attorneys at Barbara Flum Stein & Associates today.
Be observant.
After breaking the news to your teen, the most important thing for you to do is to be observant of your teen's behaviors. Notice when your teen is acting up, being reclusive, or in any way acting differently than they used to before your divorce. More importantly, be sure to address these behavioral changes right away with your teen so you can make sure their feelings are being heard and help them find a good solution.
Connect your teen with a neutral third party.
Every divorce is different, and every teen is different. Some teens might feel betrayed by one or both parents and not feel comfortable talking to you about your divorce. That's why it's important to find a neutral third party, such as a counselor or therapist, that your teen trusts and feels comfortable talking to. Your teen needs all the support they can get during this time, and you can help them find their support system if they don't already have one.
Inform your teen's teachers, counselors, and any other adults in their life.
One of the most uncomfortable and awkward things your teen will experience after you announce your divorce is answering to the adults in their life about which parent should be contacted about what. To help your teen have an easier transition, contact your teen's teachers, nurses, counselors, and any other adults in their life to let them know about your separation and the protocol moving forward for which parent should be contacted for which issues.
Keep your personal dating life private from your teen.
As you start dating again after your separation, try to keep your dating life private from your children. Refrain from bringing your new girlfriend or boyfriend home when your teen is around, as it can send a confusing message to them and sometimes incite anger in them as well. This is particularly likely to be the case if you start dating and bringing around your new boyfriend or girlfriend before your divorce is finalized.
Contact a Pennsylvania Divorce Attorney Today
Sometimes the hardest parts of going through a divorce are managing your children's emotions as they adjust to a new life. The divorce attorneys at Barbara Flum Stein & Associates take a holistic approach to helping you get through your divorce and can offer the sympathy and practical advice you need during the process of getting a divorce. Contact us today at 610-565-6100 or visit us online to schedule your free consultation.
Resource:
legis.state.pa.us/WU01/LI/LI/CT/PDF/23/23.PDF