Follow These Tips When Asking Your Spouse For A Divorce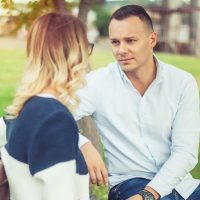 If you are unhappy in your marriage, you may be considering divorce. The decision to get a divorce is hard enough, but many people do not know how to even broach the topic with their spouse. The position is certainly a stressful one, but it is also important, as it may be the first step towards a new life. Before you start the conversation, try to keep the feelings and needs of your spouse in mind. This can actually help you keep the conversation on track. Below are some other tips that may help when talking to your spouse about divorce.
Be Empathetic
Your spouse may or may not agree with the divorce. Whatever they have to say when you bring up the topic, it is important to listen and remain empathetic. Explain to your partner that you still care for them, but staying married is not the right decision for you. Once each of you has had the opportunity to discuss how you feel about divorce, you can then start working through the next steps either on your own, or together.
Choose the Right Time and Place
There really is no "good" time to bring up the idea of divorce with your spouse but still, there are certain times that are better than others. Choosing the right place and the right time to have the conversation is critical and can help make sure the dialogue remains calm and peaceful. The worst time to bring up the subject of divorce is when your children are nearby, or when it is possible for them to overhear what you are saying.
If you and your spouse are already in marriage counseling, bringing the idea up during a session may work. On the other hand, if your spouse has just received bad news about another area of their life, you may want to wait a day or even one week or so to bring the subject up.
Remain Firm
It is important to know what you want to do before you have any conversation with your spouse about divorce, so you can remain firm. If they do not want to get a divorce, they may try to dissuade you and give the marriage another chance, which may only prolong the unhappiness on both sides.
Consider Your Next Steps
Once you have had the conversation with your spouse, it is time to start thinking about your next steps. A Media divorce lawyer can advise on whether mediation, collaborative law, or litigation is the right step for you.
Call Our Divorce Lawyer in Media Today
Bringing up the issue of divorce with your spouse is never easy, but working with a Media divorce lawyer can make it easier. At Barbara Flum Stein & Associates, our skilled attorney can provide the sound legal advice you need and outline the options available to you. Call us now at 610-565-6100 or reach out to us online to schedule a consultation and to learn more about how we can help.
Sources:
legis.state.pa.us/cfdocs/legis/LI/consCheck.cfm?txtType=HTM&ttl=23&div=0&chpt=33&sctn=1&subsctn=0
legis.state.pa.us/cfdocs/legis/LI/consCheck.cfm?txtType=HTM&ttl=23&div=0&chpt=39