Does Divorce Have To Be A Mutual Decision?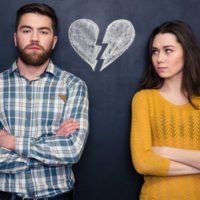 Divorce is not always a mutual decision between two spouses who know their marriage is over. This can lead to a long contentious divorce. When a spouse is upset over the prospect of divorce, can the other spouse still file for divorce? Or can the spouse who is upset stop the filing or granting of the divorce and keep the marriage legally valid? The short answer to this question is, no.
A spouse can file for divorce in Pennsylvania at any time after establishing residency in the state. Depending on the grounds for divorce, filing for divorce does not require both spouses to be in agreement as to the divorce action. Divorces in Pennsylvania can be granted based on an allegation that the marriage is irretrievably broken, and this greatly changes divorces from past requirements which required the person seeking divorce in all cases to show the other spouse was at fault in causing the marriage to end. Fault based divorce is still available in Pennsylvania, but it is simpler in most cases to seek no fault divorce.
When seeking no-fault based divorce, there has to be mutual consent to the divorce. Without mutual consent, the spouse seeking a divorce has to wait one year from separating from the other spouse in order to get the divorce based on the marriage being irretrievably broken. This waiting period was reduced from two years to one by a recent change in Pennsylvania law.
A non-filing spouse can still contest a no-fault divorce in Pennsylvania. The court handling the case may have to make determinations on whether or not the marriage is truly over. The filing spouse has to show that the couple has lived separately and apart during the period of separation preceding the divorce. A failure to show this can mean extending the separation period. Generally, unless there is evidence to the contrary, the date the divorce petition is filed can act as the official date of the separation.
Even if a spouse cannot stop a divorce, he can drag out or delay the divorce by taking various actions. A spouse may file various motions in order to delay the final determination of property division and other property related issues. Ultimately, while delay tactics may be frustrating, they will not stop the divorce altogether. In addition, if a court finds that the motions being filed have no merit and are done to frustrate the process, the court may order sanctions against the party filing the motions.
Contact an Experienced Divorce Attorney
If you are thinking of divorcing your spouse, but cannot decide whether to file for fault or no-fault based divorce, you need to seek guidance from an experienced and compassionate divorce attorney. For more information on how to start your divorce, contact an experienced divorce attorney at the Media, Pennsylvania law firm Barbara Flum Stein & Associates serving Delaware County in all family law matters to schedule a consultation.
Resource:
legis.state.pa.us/cfdocs/legis/li/uconsCheck.cfm?yr=2016&sessInd=0&act=102