Do Unmarried Couples Have Property Rights?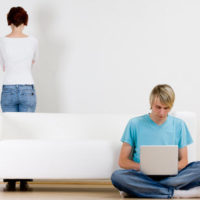 Many people choose to cohabitate without ever getting married. Some of them live together for decades even, all without ever tying the knot.
What happens when these couples split up? Over the years, it is very common for a couple to become enmeshed financially. Does this mean they have the same property rights as married couples when they divorce?
Actually, no. If you never walked down the aisle with your partner, then you do not have most of the rights that married couples have. There are some limited exceptions where you might leave the relationship with property, but you shouldn't plan on it.
Everyone Leaves with their Own Property
In divorce, a couple needs to divide their marital property. This is typically all the property a couple obtained while married as well as their individual earnings. It doesn't matter whose name the home is in. If the couple bought it while married, it is marital property, which is divided equitably under Pennsylvania law. The same is true of retirement accounts and money in a bank account, regardless of who put the money there.
However, unmarried couples do not have these rights. In most cases, each partner leaves with his or her property when splitting up. This means a man takes his entire savings account, retirement accounts, and any other asset he owns. His partner leaves with the same.
There are some exceptions. If you jointly bought and owned an asset, then you each have rights in it. So if you bought a home and it is in each person's name, then you each have a right to the home. Meet with a Delaware County divorce lawyer if you need help identifying any joint assets.
You Don't Have a Right to Alimony
Alimony, or spousal support, is money one spouse pays to the other after divorce. It is intended to help the lower-earning spouse survive and possibly pay for an education so that he or she can be self-supporting going forward. Judges are not required to award alimony but can if the divorce would be very unfair financially to one spouse.
Unfortunately, unmarried couples have no right to alimony. It doesn't matter how long you were together with your partner or if you had children together. You don't have a right to support.
However, if you and your partner reached an agreement that he or she would support you, then a judge might enforce this agreement. This agreement is like a contract, and you would be well served to have it written out like a contract so you can prove the actual existence of an agreement.
Your Children Have Rights to Child Support
Things are different for your children. They have a right to be financially supported by both parents, regardless of who they live with. Child support is not intended to support you, and it will end when your children become adults. But you should definitely seek child support for your children after a split.
Contact a Media Divorce Lawyer
Ending a relationship is emotionally traumatic. It can also be financially devastating. To protect your rights, speak to a Media family lawyer at Barbara Flum Stein & Associates. We offer a free consultation, which you can schedule by contacting us today.
Resource:
legis.state.pa.us/cfdocs/legis/LI/consCheck.cfm?txtType=HTM&ttl=23&div=0&chpt=35&sctn=2&subsctn=0
https://www.bfsteinlaw.com/who-is-responsible-for-paying-a-childs-health-insurance-after-a-divorce/