Child Support Liens And Monetary Awards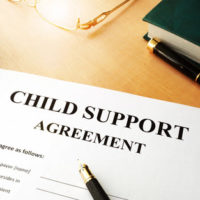 It is not always easy to collect child support from a person once a court orders him to pay it. The person may take drastic steps to ensure that he does not pay what is ordered, including quitting a well-paying job for one that pays less but is willing to pay the person off the books. A parent who is supposed to receive child support but anticipates that it will be difficult to receive regular payments can seek a child support lien. In some situations, child support liens arise as a matter of law.
Generally, child support liens arise as a matter of law against any monetary awards a non-paying person receives. This includes monetary awards such as lump sum workers' compensation awards. This means that if a person receives a lump sum workers' compensation award, but has previously failed to pay child support, the amount of child support in arrears can be subtracted from this award and given to the parent who was supposed to receive the child support payments. A child support lien can also interfere with a person's ability to buy, sell, or refinance a home, blocking such actions until the person pays on past due child support.
If there is a dispute or disagreement concerning the amount of child support a person owes, the amount withheld from the award is placed in an escrow account until the dispute is settled. This is done to ensure that the money is not spent before the dispute is settled, but also that if the money was taken in error, it can be returned to its rightful owner.
Typically, if a monetary award is coming from an insurer, the insurer is supposed to comply with the law and ensure that any existing lien is paid before all the money is paid to the injured person. If the insurer fails to comply with the law, the insurer risks being forced to pay a penalty. Insurance companies conduct lien searches and, in some cases, require the person about to receive the lump sum award to sign an affidavit confirming or denying the existence of any liens.
Waiting for an award or lump sum settlement to be paid to a parent who owes child support could take a long time. If a parent who is supposed to receive child support would rather use other legal means to pursue the child support as it becomes due, he or she can discuss the available options, such as wage garnishment with an experienced attorney. While these methods may also prove unsuccessful in forcing a person to pay his child support obligation, it can be a good place to start.
Contact an Experienced Child Support Lawyer
If you have not been receiving court ordered child support, there are tools that can help you pursue the payments, either in monthly payments or from a lump sum settlement or award. For more information on how you can collect past due child support payments, contact our experienced child support lawyers in Media, Pennsylvania at Barbara Flum Stein & Associates serving Delaware County in all family law matters to schedule a consultation.
Resource:
legis.state.pa.us/cfdocs/legis/LI/consCheck.cfm?txtType=HTM&ttl=23&div=0&chpt=43&sctn=8&subsctn=1