Child Custody FAQs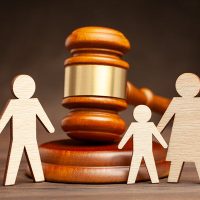 Any divorce that involves children in Pennsylvania will involve child custody issues. It is important that all parents understand the child custody laws in the state so they know what to expect. It is not uncommon for child custody issues to become some of the most contentious during divorce, as well as some of the most stressful. All parents can make it easier on themselves by simply knowing the law. To help with this, our Media divorce lawyer has rounded up some of the most frequently asked questions, and the answers behind them.
How is Child Custody Determined in Pennsylvania?
Divorcing parents can come to an agreement on many different aspects of their divorce, and that includes on child custody issues. Of course, this is not always possible. When it is not possible for parents to come to an agreement, the matter will go to court and a judge will make all the final decisions. When making child custody decisions, judges will only consider the child's best interests, including their financial ability to care for the child, their physical and mental ability to raise the child, and the situation of each parent.
Which Parent is Most Likely to Be Awarded Child Custody?
Traditionally, the courts in Pennsylvania may have favored mothers over fathers when making child custody decisions. This was generally because mothers stayed at home and raised the children while the men went to work. Today, that is no longer the case. Most households live on two incomes and so, men and women are given equal consideration when decisions are being made about child custody. Today, judges will only consider which parent has the primary role in raising the child, stability in the child's education, and the relationship between the child and the extended family.
Do the Courts Ever Award Joint Custody?
In the vast majority of divorce cases that involve child custody, a judge will try to award joint, or shared, custody. In these situations, the child will spend time living with both parents and each will have a say when important decisions must be made for the child, such as the religion a child will be raised in and where they will attend school.
Can Children Decide Which Parent They Live With?
In certain circumstances, a judge will take a child's preferences into consideration. However, this is usually only when the child is 16 years old or older. Age is the primary factor when taking the child's preference into consideration because once they turn 16 years old, it is unlikely that the parents have influenced their decision.
Our Family Lawyers in Media Can Answer All of Your Questions
It is natural to have many questions when going through a divorce, particularly if child custody is an issue. At Barbara Flum Stein & Associates, our Media family lawyers can answer all of them and give you the best chance of a successful outcome. Call us today at 610-565-6100 or contact us online to schedule a consultation and to learn more about how we can help.