Can Divorce Affect My Credit?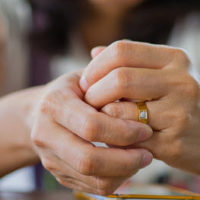 Divorce can affect a person's life in different ways. As some divorced people discover, divorce can affect a one or both spouses credit scores. Most people do not quite understand how this happens, and as a result, do not take steps to ensure that the divorce does not impact their credit. Learning the basics about how a divorce can affect your credit is important before you negotiate any terms regarding the distribution of debts and assets as part of your divorce.
The process of going through a divorce is not what technically causes a person's credit score to go down. A person's divorce is not considered when a person's credit score is calculated, and the fact that a person is divorced does not in itself affect a person's score. However, in a Pennsylvania divorce marital property is equitably divided between the divorcing spouses, and so are the marital debts.
A court may order one spouse to be responsible for paying off certain debts on joint accounts that the couple held. When the court does this, that spouse becomes legally responsible for that debt, and the other spouse can hold him accountable for not paying the debt. Unfortunately, the divorce decree does not invalidate a prior contract between both spouses and the creditor. So if the spouses are jointly named as account holders on a line of credit, they both still remain responsible for that debt even after a judge orders one spouse to pay it in the divorce.
If the spouse who is ordered to pay the debt fails to do so, the lender reports the missed payments and both spouses' credit scores are affected. This is why it is important for both spouses to keep track of the arrearage on a joint debt even if the other spouse was ordered to pay it. If the spouse who was not assigned the debt in the divorce sees that the other spouse is not paying it, she can pay the debt off and then legally pursue the money from the non-paying spouse.
Another approach could be to refinance each debt that is assigned to the other spouse in order to be removed as a joint owner, so that any missed payments do not affect you. Note that closing down or being removed from an account that is your oldest line of credit can negatively affect your credit score because the length of your credit history is considered in calculating your score. Therefore, it is important to weigh the pros and cons of this approach.
Divorce can also affect a person's credit score if they have to make a shift from managing expenses on a double income to doing it on a single income. If a person's expenses are too high, he may no longer be able to afford paying debts on his income alone after a divorce, and the missed payments and defaulted loans are reported to the credit reporting agencies. To try and handle this aspect of divorce, a person who is going through a divorce should consider scaling down expenses to his current income.
Contact An Experienced Attorney
A divorce can affect your financial life in several other ways, and it is important to discuss the assets and liabilities in the marriage with your divorce attorney before signing any contracts with your spouse. For more information, contact an experienced divorce attorney at the Media, Pennsylvania law firm Barbara Flum Stein & Associates serving Delaware County in all family law matters to schedule a consultation.
Resource:
equifax.com/personal/education/credit/score/how-is-credit-score-calculated/