Busting Five Common Myths About Divorce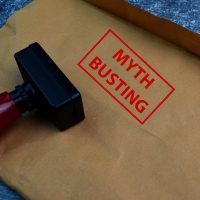 Going through a divorce is one of the most difficult things you will ever go through. You will need a lot of support and may lean on loved ones who provide you with well-intentioned advice. Unfortunately, much of this advice is wrong and is based on common misconceptions and outright myths. Below, our Delaware County family lawyer reveals five of the most common myths about divorce, and the truth behind them.
You Receive Half of Everything
There are only a handful of states in the country that follow community property law in which each party in a divorce receives half of the property. Pennsylvania is not among them. In the Commonwealth, equitable distribution law governs property division in divorce. Under this law, a judge will divide the property in a divorce fairly, but not necessarily equally. Additionally, only marital property is divided during divorce so you do not have any right to your spouse's separate property.
Alimony is Always Awarded
Many people think that just because one spouse earned a lower income than the other, that they will automatically receive alimony. Alimony is never a guarantee in divorce. Even when one spouse is awarded alimony, it is very difficult to determine how much they will receive, as it varies by county and by individual courts. The law and guidelines regarding alimony are also constantly changing. For example, indefinite alimony is almost never awarded today but at one time, it was quite common.
Divorces are Finalized After One Year of Separation
Under Pennsylvania law, couples must live separate and apart for at least one year before their divorce can be granted. However, divorces are not automatically granted after this time. It is true that some cases, particularly those that are uncontested, are finalized after this time. The divorce process can also be a long one, though. Even after the separation period, it can take months, and sometimes even years, for couples to resolve their issues. This is especially true when litigation is required.
Infidelity Will Cost You Everything
Pennsylvania law allows a spouse filing for divorce to accuse their spouse of being at fault for the breakdown of the marriage. Infidelity is one of the biggest reasons for divorce and it can play a role in proceedings. For example, if one spouse had an affair and spent marital funds on it, a judge may award their partner with more in alimony. However, having an affair will never cost you everything during divorce and you can still receive a very fair settlement.
You Do Not Need a Family Lawyer in Delaware County
The law does not require you to work with a Media family lawyer when getting a divorce. However, having sound legal counsel by your side is the only way to ensure you obtain the most favorable outcome possible. At Barbara Flum Stein & Associates, our skilled attorneys will negotiate aggressively with the other side and ensure your best interests are protected at all times. Call us today at 610-565-6100 or contact us online to schedule a consultation.