4 Mistakes that Can Increase the Cost of Divorce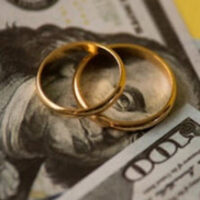 Divorce is a major financial event for most people, and many men and women see their carefully laid financial future upended as a result. However, there are certain mistakes that people can make that unnecessarily increase the cost of divorce.
Our Media divorce attorney has helped many men and women get out of their marriages, and we believe in keeping the process as lean as possible. Below, we highlight the top 4 mistakes that people make that drive up their divorce bills.
Using Your Lawyer as Your Therapist
Experienced attorneys wear many hats, and we do more than go into court and fight for our clients. We also analyze the law, investigate facts, meet with expert witnesses, and listen to our clients describe their goals. Based on what we learn, we can advise our clients on the best course of action for obtaining the divorce of their dreams.
However, one role we really don't play is therapist. If you call up your attorney to work through the recent conversation you had with your husband or call to complain about your wife's new boyfriend then you are adding unnecessarily to the bill. A lawyer's time is very valuable, so let your lawyer focus on the legal issues and lean on friends or family for emotional support.
Learning Nothing about the Divorce Process
Clients are always in the driver's seat, so they should learn as much about divorce in Pennsylvania as possible. Unfortunately, too many clients don't really understand the divorce process or how long it takes. Ask your attorney for any relevant books or articles or read our blog for pertinent information about divorce.
Fighting Tooth and Nail Over Minor Issues
There is definitely a time to fight. For example, your spouse might be abusive, in which case you want physical custody of the children. However, not every dispute is a hill to die on. Compromise is often possible, and you can narrow down the issues in dispute by listening in good faith to your spouse's proposals. Sometimes, a little give and take can pay off big in a quicker (and less expensive) divorce.
Failing to Be Fully Honest with Your Attorney
Lack of candor impairs the attorney-client relationship. It can also cost you time and money. For example, whether you have a criminal record matters in a divorce and child custody fight, so be upfront about that fact. You don't want your lawyer blindsided and having to do a lot of "clean up" work to respond to that fact coming out in court.
Another sensitive issue: infidelity. Admittedly, infidelity plays a minor role in divorces today, but in some situations it can make a big difference. For example, you might have taken your new girlfriend to an all-expenses-paid trip to Vegas. If your wife shows up to court with the receipts, then you could end up receiving less marital property because you wasted assets on a paramour.
Be upfront about whether you are seeing anyone and when the relationship started. Your attorney will never ask for information simply because she is nosy; there is always a valid legal reason.
Contact a Delaware County Divorce Lawyer
Barbara Flum Stein & Associates can help you get divorce in a cost-effective manner. Contact us today to schedule a confidential consultation.
https://www.bfsteinlaw.com/4-reasons-not-to-disparage-your-spouse-during-divorce/