When Will A Judge Award Alimony?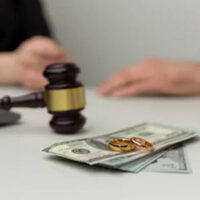 For many married couples, a happy and long-lasting marriage tends to elicit questions from those who are less fortunate when it comes to love.  When asked what the secret is to a healthy relationship, many married couples are likely to mention trust as a key component.  However, even the happiest of marriages can turn towards divorce, and when this happens it can bring into question the loyalty spouses have to continue supporting one another.
When spouses decide to separate after being married for a long time, it is likely that their financial situation is much different than it was when they were single.  Spouses buy homes and cars together, make investments, and open joint bank accounts.  When there is an uneven balance of financial power in the marriage, it can lead to concerns about how life will look for each spouse after the divorce is finalized.
Sometimes, each spouse has a relatively equal income stream and contributions to the overall financial situation of the couple are balanced.  In these cases, it may be possible to file for divorce amicably without the need for extensive legal counsel.  However, in many cases, spouses need to elicit the services and expertise of an experienced divorce attorney in their area.
Working with a divorce attorney will help spouses understand how Pennsylvania's divorce laws operate in relation to spousal support post-divorce.  Also known as alimony, these court-ordered payments are made from one spouse to another, more financially dependent spouse.  While professional legal counsel is always the preferred course of action, there are some general points of knowledge regarding alimony determination in Pennsylvania to which all residents should be made aware.  Therefore, this article aims to present factors a judge will consider when determining alimony in a Pennsylvania divorce.
Alimony Determination in Pennsylvania 
As previously mentioned, alimony is ordered when the financial power of each spouse will be significantly different after a divorce is finalized.  A judge will consider a number of factors, including:
The income and earning power of each spouse.
The age, physical health, and mental health of each spouse.
How long the couple has been married.
Any contributions made by one spouse to the other in terms of education, training, work career advancement/earning power.
The general standard of living enjoyed by each spouse during the course of the marriage.
The value and type of property that each spouse owns individually (also called "separate property").
The contributions a spouse has made as a homemaker during the course of the marriage.
The tax implications of alimony awards on each spouse.
Any history of misconduct by each spouse (e.g. abuse, neglect, adultery, etc.). 
When to Contact an Attorney 
While some factors impacting alimony are relatively easy to determine and present to a court (e.g. current and past income), others are more difficult.  An experienced divorce attorney can help spouses organize and articulate more nuanced points of consideration, such as the value a spouse provided to the marriage as a homemaker or how a spouse's separate property should be considered when determining final alimony amounts.
For over thirty years, the Media divorce attorneys at Barbara Flum Stein & Associates have been working with individuals as they navigate the divorce and alimony process. Contact us today for help.