Tips For Telling Your Spouse You Want A Divorce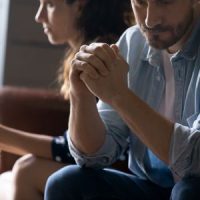 Sometimes when people are unhappy in a marriage, they both know it. They may even see divorce coming. In other instances, though, one spouse may have no idea that things had gotten so bad, and that their partner is considering divorce. If you need to broach the subject of divorce with your spouse and they are not expecting it, you likely feel very stressed about how the conversation will go. By keeping the feelings and needs of your spouse in mind, it can help keep the conversation on track. Below, our Media divorce lawyer provides other tips that can help when it is time to have the talk.
Exercise Empathy 
Regardless of whether or not your spouse agrees with your reasons for divorcing, it is important to listen to them while exercising empathy. Explain to your spouse that while you still care for them, staying in the marriage is no longer the right choice for you. After your spouse has told you how they feel about getting divorced, you can start to take the next steps together.
Choose the Right Time and Place 
To you it may feel as though there is no good time to talk about divorce with your spouse. Still, there are some times that are better than others. Unless you believe your spouse will react violently or with anger, you should choose a fairly private setting, like in your own home. If you are in marriage counseling together, that may be a good time to broach the subject.
Never have the conversation while children are around or in the same place, as they may overhear it. If your spouse has just received devastating news, it may also be more sensitive to wait unless it is an emergency situation.
Be Clear About Your Intentions 
While it is important to consider how your spouse feels about a divorce, if you know it is the right decision for you, you must be clear and remain firm. Second guessing yourself and your choices will only create confusion. This could prolong the process, and your unhappy marriage, longer than necessary.
Consider the Next Steps 
Knowing which next steps to take can help when talking to your spouse about divorce. They will likely have many questions and providing as many answers as possible can help you both move forward. Be prepared to tell your spouse what goals you have for the divorce and how you would like to proceed. Speaking to a Media divorce lawyer beforehand can provide the answers and help prepare you fully for the conversation.
Contact Our Divorce Lawyer in Media Today 
Talking to your spouse about divorce is never easy. At Barbara Flum Stein & Associates, our Media divorce lawyer can advise on all aspects of your case so you obtain the full and fair settlement you are entitled to. Call or text us now at 610-565-6100 or chat with us online to schedule a consultation and to obtain the legal help you need.
Source:
legis.state.pa.us/cfdocs/legis/LI/consCheck.cfm?txtType=HTM&ttl=23&div=0&chpt=33&sctn=1&subsctn=0