Serving Your Divorce Papers On Your Spouse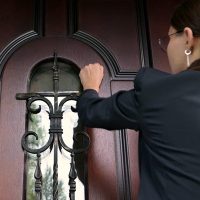 Any time a person is sued in court, they need notice of the lawsuit, which essentially means they need a copy of your petition and some other papers (like a notice to appear). Divorce is no different than a personal injury case. Your spouse must have notice of your divorce so he or she has a chance to respond to the allegations.
Service of process is very complicated in Pennsylvania. You might think you can just hand your husband or wife a copy of the papers over the kitchen table, but the law generally prohibits that. Instead, you will need a third party to serve the papers. Our Media divorce lawyer takes a closer look at how to comply with the law and what happens if service is done improperly.
Personal Service
Rule 1930.4 of the Pennsylvania Rules of Civil Procedure applies to domestic relations matters, including divorce. This rule says that service can be made by the sheriff or a competent adult by giving a copy to your spouse or, if your spouse can't be found, then:
To an adult living in your spouse's home, or
With someone who works at the apartment or hotel where your spouse is staying, or
At your spouse's place of business with whoever is in charge
A "competent adult" essentially means anyone at least 18 years of age who is unrelated to either spouse and not an employee. This person could be your neighbor, new boyfriend/girlfriend, or a family friend.
In many cases, it is best to pay a private process server to make service. They know what they are doing and are adept at making personal service by following the rules.
Service by Mail
The Rules of Civil Procedure also allow service by mail. Based on our experience, this is less than ideal but is still allowed. According to the Rule, service must be made to your spouse's last known address using certified mail, return receipt requested. Hold onto the receipt.
Of course, your spouse could refuse to accept the mail. In that case, you will have to use another means of service of process, unless your spouse accepted regular mail and only declined to accept the certified. In that rare situation, a court will consider your spouse served.
Exception: When You Can Hand Your Spouse the Paperwork
Nothing prohibits your spouse or their attorney from voluntarily accepting service. They would simply need to sign a statement that they are accepting service as laid out in Rule 402(b). This is a good option in a simple, uncontested divorce.
When Service Fails
What happens if you don't make service properly? Believe it or not, the court will claim it doesn't have jurisdiction over your spouse and will dismiss the case. You can file later once you make proper service, but you lose out on time and money.
Service of process is a definite hurdle when men and women try to handle their own divorces. One misstep can delay a divorce considerably. You could also lose the advantage of filing first, since your spouse can beat you to the courthouse by making proper service ahead of you.
Contact Barbara Flum Stein & Associates Today
Our Media family lawyers can shepherd a divorce through court from start to finish. Call us today to schedule your initial consultation to learn more.
Source:
pacodeandbulletin.gov/Display/pacode?file=/secure/pacode/data/231/chapter400/s402.html#:~:text=Rule%20402.%20Manner%20of%20Service.%20Acceptance%20of%20Service.,adult%20person%20in%20charge%20of%20such%20residence%3B%20or.