International Adoption: A Primer For Pennsylvania Residents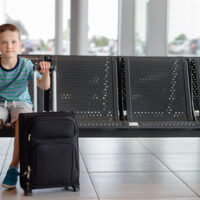 In recent years, celebrities such as Brad Pitt and Angelina Jolie have called national attention to adopting children from foreign countries.  For many Americans, including the 10 percent of women who have trouble conceiving, adoption is a viable method of circumventing the biological means of becoming a parent.
People choose to adopt a child from a foreign country for a number of reasons.  No matter the justification, prospective parents in Pennsylvania need to know the rules and regulations surrounding the adoption of children from outside the United States.  If you are planning to adopt a child internationally, then consider this article a primer on what to expect from the process.
Basic Federal Foreign Adoption Requirements 
In order to adopt a child from a foreign country, there are some basic requirements people need to meet.  These requirements are set and enforced by the United States Citizenship and Immigration Services (USCIS), and include:
Adoptive parent(s) must be a US citizen
Unmarried individuals wishing to adopt must be at least 25 years old.
Spouses must file jointly to adopt the child
Applicant(s) must pass a comprehensive background check
Additional State Adoption Requirements
In addition to the federal requirements outlined by the USCIS, prospective parents in Pennsylvania must also meet the specific state requirements outlined by Pennsylvania law, including:
Determine if residency requirements are needed. While Pennsylvania does not require a minimum residency for most adoptions, the courts can still request temporary placement in certain cases.  Consult with an adoption attorney for more information
Obtain consent from birth parents. If you are using an adoption agency to assist in the process, this is typically included in the general proceedings
Understanding the Hague Adoption Convention 
Established in 1993, the Hague Convention on the Protection of Children and Co-operation in Respect of Intercountry Adoption (Hague Adoption Convention) was created to enact standards for the process of foreign adoption, while protecting the safety and welfare of the children up for adoption.  Because of the Hague Convention, a number of countries maintain uniform standards that make adopting children from those countries relatively easier.
There are many benefits to adopting from a country that participates in the Hague Convention, including:
Increased transparency. Adoption agencies in these countries must provide prospective parents with itemized lists of all fees and expenses included in the process.  Nothing is left to speculation.
Verified adoption agencies. Any adoption agency that participates in foreign adoptions in a Hague Convention country is screened and verified by the US Department of State, meaning that prospective adoptive parents can rest assured that the facility is a legitimate organization.
VISA eligibility. Hague Convention standards mean that children most likely meet the visa requirements and are eligible to enter the United States.  As always, consultation and collaboration with an experienced adoption attorney can help ensure 100% compliance.
Professional Counsel for Peace of Mind 
Becoming a parent can be a complex and stressful endeavor, regardless of the means taken.  For prospective adoptive parents looking to adopt a child from a foreign country, the complexities can be tenfold that of a domestic adoption, but so can the rewards if the process is conducted with fidelity.
With decades of experience in adoption law, Barbara Flum Stein & Associates has helped numerous couples in Delaware County navigate the adoption process effectively.  If you are looking to adopt a child, contact our Media adoption lawyers today.
Resource:
legis.state.pa.us/cfdocs/legis/LI/consCheck.cfm?txtType=HTM&ttl=23&div=0&chpt=27