How To Live Separate And Apart, But In The Same House, As Your Spouse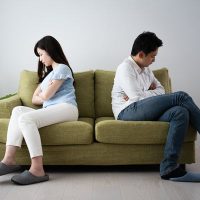 Pennsylvania does not have any statute that classifies a couple as separated but still technically married. Still, couples who want to get a divorce must live separate and apart for either 90 days or one year before officially ending their marriage. Living separate and apart does not necessarily mean that spouses have to live in separate residences. For spouses who cannot afford two residences, or who have children together and still want them to have equal access to both parents, there are ways for couples to live separate and apart while remaining in the same home.
Living separate and apart in the same residence is not easy, though. Spouses may feel resentful towards each other, or they may take certain actions that go against the definition of living 'separate and apart.' Below, our Delaware divorce lawyer outlines some tips for living separate and apart from your spouse.
Create Boundaries 
Boundaries are essential for anyone getting a divorce but for people living separate and apart in the same home, they are even more important. You and your spouse should have separate bedrooms and if you engage in intimate relations, it will mean you are no longer living separate and apart. If you and your spouse can each live on different floors from each other, that is even better. If you and your spouse have children together, you should create a schedule outlining when you will each spend time with and care for them.
Separate Your Finances 
You should physically separate from your spouse, but separating your finances is just as important. This will help with not only the divorce process, but also post-divorce as well. Open your own bank account and review your estate plan to determine what changes you need to make. Also determine with your spouse what household expenses you will each be responsible for and make sure this is in writing. Lastly, start to budget for post-divorce when you will be living on your own and earning a single income.
Remember that Privacy Matters 
Privacy probably was not a big deal during the marriage but while you are going through a divorce, it is critical. If you want to talk to your family or friends about the divorce, do it outside of the home where your spouse cannot overhear you. Also, if you are a named user on a shared computer or other electronic device, remove yourself. Also check any other accounts, such as cloud services, and remove yourself so your spouse cannot access your information.
Our Divorce Lawyer in Delaware County Can Assist with Your Case 
If you are getting a divorce, our Delaware County divorce lawyer at Barbara Flum Stein & Associates can provide the legal advice that will give you the best possible outcome in your case. Call or text us now at 610-565-6100 or chat with us online to schedule a consultation with our knowledgeable attorney and to learn more about how we can help.
Sources:
legis.state.pa.us/cfdocs/legis/LI/consCheck.cfm?txtType=HTM&ttl=23&div=0&chpt=33&sctn=1&subsctn=0
legis.state.pa.us/WU01/LI/LI/CT/HTM/23/00.035..HTM