Four Tips For Managing Separate Property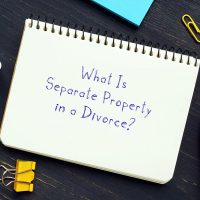 Even couples that are not considering divorce should consider how they want to protect their separate property in the event that their marriage does come to an end. No one gets married expecting it to end in divorce and due to this, too many people leave important property, such as a business, vulnerable to property division issues.  Then, if they do get a divorce, they are at risk of losing it. To prevent this from happening, below are four tips for managing and protecting separate property.
Draft a Premarital or Postnuptial Agreement
Premarital agreements are one of the best ways to protect separate property. These documents are legal contracts and they mainly deal with the financial issues divorce presents. A premarital agreement can specifically outline which property is considered separate and what is considered marital, and therefore subject to division. Couples that are already married can draft a postnuptial agreement, which has the same purpose with the only difference being that these contracts are drafted after the marriage.
Keep Accurate Financial Records
If you have assets that you want to keep separate, it is critical that you keep them separate from your marital assets. For example, if you have a business, you do not want to use marital property to purchase equipment for the company. Due to the fact that you used marital funds to benefit your business, at least a portion of it may be considered marital property and therefore, divided during divorce. Always keep marital and separate property independent from each other and keep good financial records to prove it.
Understand Increases of Value
Any property that increases in value during the marriage may be considered marital property, at least partially. This is because the increase of value occurred during the marriage. While there may be little you can do about this, it is important to be aware of it.
Do Not Use Marital Property to Purchase Separate Assets
If there is property you want to purchase, but keep separate, you must use separate property to do it. Separate property is mainly any assets you brought into the marriage with you, but there are some exceptions. For example, if you wanted to purchase a classic car with the inheritance you just received, that would keep the vehicle as separate property because inheritances are not usually considered marital property. If, on the other hand, you used the joint bank account you have with your spouse to purchase the car, it would likely be considered marital property and subject to division.
Our Family Lawyer in Media Will Protect What is Most Valuable to You
Property division issues can become some of the most contentious during a divorce, but our Media family lawyer will protect the assets most valuable to you. At Barbara Flum Stein & Associates, our skilled attorney has the necessary experience to negotiate with the other side to help you obtain the fairest settlement possible. Call us today at 610-565-6100 or contact us online to schedule a consultation and to learn more about how we can help.