Childhood Trauma Linked To Adult Substance Abuse, According To Study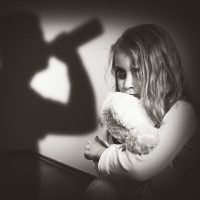 A recent study has linked substance misuse and abuse to early childhood trauma, factors that make it much more likely that children will end up in the child welfare system. For children growing up in the child welfare system, those who would go on to have substance abuse issues were 24% more likely to have a traumatic event in their early childhood. Compared to the general population, those with childhood traumas were 108% more likely to have substance abuse issues as adults. Further, trauma scores for children growing up in households where a parent was a drug abuser were 27% more likely to report childhood trauma.
The study is obviously attempting to draw a link between childhood trauma and substance abuse later in life. The study sampled 402 adults from the Ohio area.
Childhood traumas 
The subjects were given a questionnaire that asked them several questions. Particularly, they were asked if they experienced any of ten potential childhood traumas. The traumas ranged anywhere from sexual abuse on the extreme end to divorce on the other end. The average score on the questionnaire was much higher than the general population. Those surveyed had an average score of 4.2. Research suggests that those with scores above 4.0 are at increased risk of substance abuse and other mental health disorders. They are also more likely to end their own lives or even get heart disease. Only about 16% of those surveyed have scores above 4.0. Those in the child welfare system average above 4.0.
Children up to 18 were also surveyed as a part of this study. Older children had an average score of 5.6 which was 27% higher than children in the juvenile justice system. Of those who were in the lowest age bracket of 5 and under, 90% had reported two or more traumatic experiences.
Understanding the implications 
When it comes to child-rearing, substance abuse is looked down upon as a moral failing. The more we understand the role childhood trauma plays in grooming well-adjusted adults, the more difficult it becomes to blame individuals for moral failures when they have been the victim of even worse moral failures. While the study points out the link between childhood trauma and substance abuse later in life, it also implies that households with substance abuse problems are more likely to generate children with childhood trauma.
In the court's view, it may be terribly sad that a parent has lived such a difficult life and now is battling drug addiction, but the children are more likely to be neglected or abused in a house where there is drug abuse. While the courts still may want to sympathize with a parent who is fighting for custody, they won't endanger the children by putting them in a home where it is more likely that they will be traumatized.
Talk to a Delaware County Divorce Attorney Today 
If you're contemplating divorce in the near future, your best move is to discuss your options with an experienced Media divorce attorney as soon as possible. Barbara Flum Stein & Associates have years of expertise representing divorcing spouses. Call today to schedule an appointment and we can begin discussing your options.
Source:
eurekalert.org/news-releases/928602