Can I Get Alimony if I Have a Disability?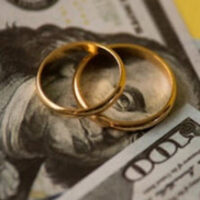 Alimony, called "spousal support," is money one spouse pays the other after the divorce. Spouses can also request alimony pendente lite, which lasts for the duration of the divorce. Under Pennsylvania law, no spouse has an absolute right to alimony; however, judges can award it if the circumstances warrant.
One concern many disabled clients have is whether they can receive alimony to help cover their bills. Many people see a dramatic drop in income after divorce, and this is especially true of the disabled, many of whom have been out of the workforce for years. In this article, we'll take a look at different concerns that clients have regarding alimony.
Will Alimony Reduce the Amount of Disability Benefits I Receive?
If you qualify for Social Security Disability Insurance (SSDI) benefits, then you might be worried that they will be reduced if you receive spousal support. However, SSDI benefits are based on the amount of income you earned while working. They are not need based, so they should not be reduced if you receive spousal support payments.
If you receive Supplemental Security Income, called SSI, then you could very well see a reduction in benefits. SSI is means tested, and the government wants to look at your income and assets when deciding whether to award SSI benefits and how much.
For this reason, it is vital that you take a holistic view of your financial situation before divorcing. It might be the case that you would be better off not requesting support if it puts certain government benefits in jeopardy. Meet with an attorney to review.
Can I Get Alimony even if I Signed a Prenuptial Agreement?
Pennsylvania has an interest in not having citizens on public assistance. At the same time, the state typically enforces a valid prenuptial agreement which has been obtained freely. Both of these principles collide when a disabled spouse is divorcing and he or she has signed a prenuptial agreement waiving spousal support.
Some people have argued that completely cutting off spousal support is unconscionable, so any prenuptial agreement calling for that should be set aside. In Pennsylvania, however, our Supreme Court has stated that it will not set aside a prenuptial agreement because it is unreasonable given the circumstances at the time of divorce. The court stated that illness and other events are foreseeable when parties plan their trip to the altar, so they should consider their possibility when they sign a prenuptial agreement.
If you have signed a prenuptial agreement, there might be other avenues for attacking it. You should consult with your attorney, who will review the circumstances surrounding the signing. Often, lack of full and fair disclosure can undermine a prenuptial agreement, as when your spouse hid assets or debts.
Speak with an Experienced Media Spousal Support Attorney
At Barbara Flum Stein & Associates, our team has helped many men and women get spousal support after a divorce or during the pendency of the proceedings. Please reach out to our Media spousal support attorneys today to discuss your situation. Our clients' well-being is our number one priority.
Resource:
scholar.google.com/scholar_case?case=17980730584585786655&q=prenputial+unconscionability&hl=en&as_sdt=4,39