Adopting a Special Needs Child in Pennsylvania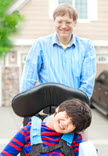 Parents who have decided to adopt a special needs child from foster care should be aware of certain adoption assistance programs available to them. In addition to the federal Title IV-E Adoption Assistance program, Pennsylvania has its own statewide assistance program as well. These assistance programs can benefit your family and your child, so make sure you consult an experienced Pennsylvania adoption attorney about your eligibility for adoption assistance.
Pennsylvania Adoption Assistance Eligibility Requirements
The goal of Pennsylvania's Adoption Assistance program is to help foster children with special needs find a permanent home by providing assistance to parents who adopt special needs children from foster care. In order to be eligible for the program, the child must satisfy the following criteria:
The child must be under 21 years old, and if the child is under 18 years old, the child's parents must either be deceased or have had their parental rights terminated.
The child must be a U.S. citizen or qualified alien.
The child must have one of the following traits:

A physical disability,
A mental disability,
An emotional disability,
A genetic condition that puts the child at high risk for developing a disability,
The child is part of a minority group,
The child is part of a sibling group, or
The child is five years old or older.

A reasonable effort must have first been made to match the child with a family that does not require adoption assistance. However, if the child's foster parents are adopting the child, and the child already has strong emotional ties with the prospective parents, then this provision does not apply.
Eligibility is determined exclusively by public county Children and Youth Agencies (CYA) across the state.
Pennsylvania Adoption Assistance Benefits
If you are approved for adoption assistance, you can expect to receive all or some of the following benefits:
A monthly adoption subsidy that is previously negotiated between the CYA and the adoptive parents. The monthly subsidy is designed to cover both ordinary and extraordinary expenses and cannot exceed the monthly amount the child would receive in foster care.
Federal Medicaid assistance and state level medical assistance until the child reaches 18 years old. Children who qualify for federal adoption assistance at age 16 or older will qualify for Medicaid assistance between the ages of 18-21, and children who qualify for Pennsylvania adoption assistance at ages 13-15 will also qualify for state level medical assistance between the ages of 18-21.
Reimbursement for one-time adoption expenses, such as adoption fees, attorney fees, court costs, medical visits and examinations, transportation, lodging, and food. The maximum amount a family may be reimbursed per adoption is $2,000.
Adopting a special needs child from foster care is a big decision and a noble one, but it is not without its own set of challenges. If you are interested in adopting a special needs child, it is important to familiarize yourself with the resources available to you to support you in making this life-changing decision. The adoption lawyers at Barbara Flum Stein & Associates have experience working with special needs adoptions and helping prospective parents obtain the resources they need to complete their family. Contact us online or at 610-565-6100 to schedule your free consultation today.
Resources:
pacode.com/secure/data/055/chapter3140/subchapCtoc.html
nacac.org/resource/eligibility-benefits-federal-assistance/